Fruktstereo, Plumenian Rhapsody (2020)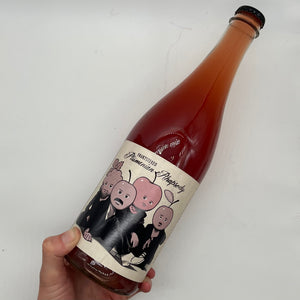 A delicious fruit pet nat comprised of apples, plums, and red grapes. Is this real life or is this just fantasy? Only tasting this will bring the answer.
Freshness from apples, tartness and funk from plums and structure and grip from the grapes. Sweet and sour plum candy. A big and concentrated cuvee with plums from an abandoned vineyard in Dalby.
"One of our classics. Created from both the seasonal picking but also
coincidence and personal taste. From early plum picking continued with apples and ending with blue grapes late in the season," say Mikaen & Karl