Poggiosecco, Chianti (2021)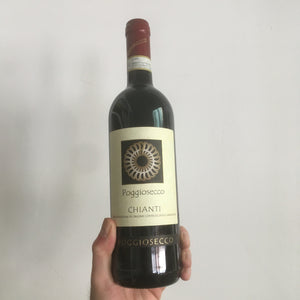 Certified Biodynamic. 90% Sangiovese, 10% Malvasia Nera. Bright and expressive notes of ripe cherry with a hint of cloves.
Making of: Once manually harvested, the grapes are gently destemmed and crushed and then undergo fermentation with indigenous yeasts. Frequent pumping for greater extraction of tannins and polyphenols. Clarification is done by decantation only, no fining product used. The wine then ages for 12 months in cement tanks and further 6 months in bottles before release.