Doric Wines, Orange (2021)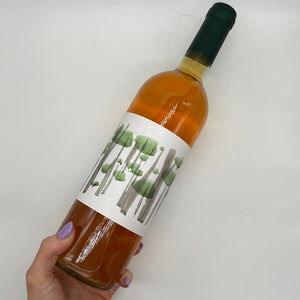 Wine maker Giorgos Balatsouras is behind a certfied production of a unique little winery in the village of Koniakos in the high mountains not far from the ancient Delphi on Central Greece.

He works with Roditis and Malagousia and an old blue grape of the area from bush vines, unique 150y old tree vines, from green vineyards his family have maintained for generations. Some of the vineyards are located in an altitude of 800 m. The stunning from the vines are breathtaking.
intense amber from the mountains of central greece, that shows a touch of influence from fir branches used in the winemaking.
limestone soil, vines planted in 2001, 800m elevation, no irrigation, minimal sprays of copper and sulfur, 
mountain herbs, honey, lemon, ginger, toasted orange peel, green walnut, espresso ground, cacao, pine, grippy tannins, long, complex, medium bodied, mouthwatering acidity, savory & dry
region: Koniakos, Phocis, central Greece
varietal: Roditis 85% / Malagousia 15%
style: bold orange
farming/cellar: certified organic, manually harvested and hand selected, destemmed, macerated for 6 days, no press, wild fermented in open wood fermenters in ambient temperatures with no additives before continuing in steel (total 30 to 40 days), with fir branches and thyme for cap management according to centuries-old traditions. The resin secretion from the fir, supports an almost unsulfured bottling. Malo occurred. Matured a few months in combo of steel tanks and 250L wooden barrels, unfined, unfilted, no so2