Hiyu, Aura Columbia Gorge (2019)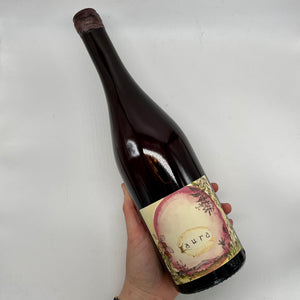 A profound wine where defining it as a rose, red, white, or orange wouldn't do it justice and that is what is so exciting about it. The pull and tension breaks through the dichotomies. Nate Ready and China Tresemer make transcendent wine in a unique more alpine part of Oregon. They take permaculture and regenerative farming very seriously and are always experimenting to make truly thoughtful beverages. 
This is the fourth vintage of Aura and is a blend of Pinot Gris and Pinot Noir from the same parcel right behind their restaurant. The wine reflects on the personality of the specific area. The wine is approached differently than others where the grapes are picked in three passes and vinified in different ways before the final blending.
 "a multidimensional wine with striking and unexpected layers. It possesses the cut and precision of Champagne; amplified, saturated and exotic fruit from the co-ferment; and Nebbiolo-like tannin and intense whole-cluster spice from the orange wine component. This wine always strongly blends categories between, white, red, rosé, and orange wines, but it is particularly the case with this vintage. This wine should age for decades and we definitely encourage you to lay down a few extra bottles if you have the cellar space," 
- Nate Ready