Domaine Saint Bacchi, Glou Glou Rose (2021)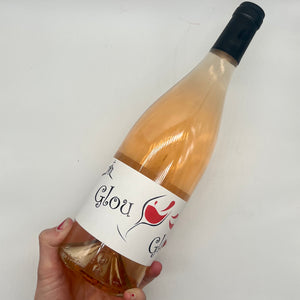 Provence, France -- 7 ha estate created in 2003 on the family property, in a 16th century bastide, certified organic, in polyculture (Olive trees, Cereals, PAM, Fodder...).
This structure, completely restored, including the chapel which dates back to the 9th centery, was built on a Roman temple dedicated to Bacchus, the Roman god of wine. Pilgrims were devoted to the chapel because the spring which fedd the building was considered to be miraculous. The frescos, still present, represent the castle and fountains. Saint Bacchi was Syrian. A Roman officer who converted to Christianity, he evangelized the region, made himself a hermit and would die on the site of the chapel.
The legend : One night, a group of thieves broke into the Bacchi's chicken coop, stole hens and roosters, and following the theft the chickens were transformed into stone.
The legend is surely the origin of the coat of arms for Jouques : The rosster and the hen.
A provencal rose with some character. Very clean and crisp, with notes of white peach, strawberry, and mineral. Glug, glug this wine goes down easily. The chapel on the estate dates back to the 9th century.