Finca Parera, Kups (2021)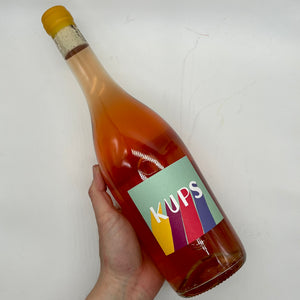 A special expression of Sumoll rose, direct pressed free-run juice that spontaneous ferments in cement followed by aging for several months in a clay jug. Delightful delicate texture filled with ripe fruit notes. Nectarine, papaya, with a silky and full mouthfeel. Only a few hundred bottles produced.
In addition to grapes, Ruben Parera and his father are committed to sustainable agriculture and biodiversity. They biodynamically farm olives, cherries, almonds, orchard fruit, vegetables and also keep bees. Bottled on the descending moon. Ruben is a fourth generation farmer and started their estate in 1999 with his father, Jordi.