Les Justices, Sanguine Rose (2022)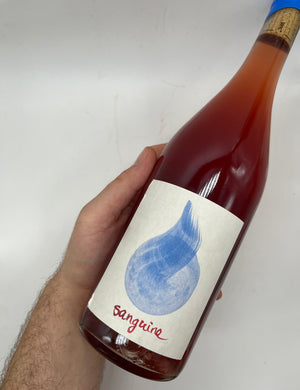 Loire, France -- A rosé of Grolleau Gris and Cabernet Franc. Zero/zero. 
Nose carried by notes of citrus fruits (blood orange!!! orange sanguine in French!), pomegranate, rose, redcurrant... Fleshy, luscious and balanced palate, a deep rosé, crafted for gastronomy and all of your food and wine pairings of those sunny days!
Blend of 95% Grolleau Gris and 5% Cabernet Franc from vines grown organically and planted on clay-limestone soils in the small town of Dampierre-sur-Loire. Manual harvest. Vinification: the Grolleau Gris is completely destemmed and macerates for 6 days in vats, then the whole bunches of Cabernet Franc are added to the vat for an additional 6 days of maceration. Aging in vats for 5 months, bottled at the Estate at the end of January 2023, without fining, filtration or any addition of sulfites.