Cacique Maravilla, Gutiflower (2021)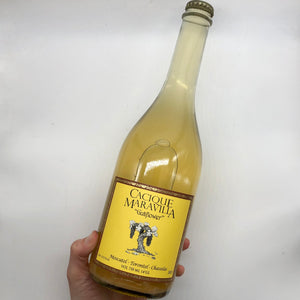 Biobio Valley, Chile — First things first, this This pet nat is very much alive and can be volatile when opening. Please make sure to chill very well and open carefully with glasses ready!
Mostly organic and dry farmed Muscat de Alexandria with a small amount of Corinto (Chasselas) and Torrontés from Bio Bio Valley in Chile. This is a very aromatic pet nat with heady notes of gardenia and tropical fruit. Great on its own or paired with spicy dishes. 
1 day on the skins then the free run juice rests for 2 months without fining, filtering, disgorging or sulfur. It's a fun one :)