Il Folicello, G Turbo (NV)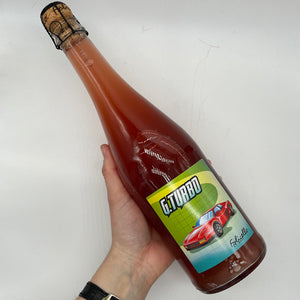 Vroom, vroom, no need to buckle up because this bottle will disappear quickly. Drink this bottle fast and furious style. A crispy rosato sparkler made with the Grasparossa di Castelvetro a clone of Lambrusco. Bright acid with notes of tart raspberries, cranberries and blood orange. Made using the ancestrale methode, a method this husband wife team has mastered where the second fermentation happens in the bottle. No sulfur added.
Started in the '80s with friends the couple's daughters have now joined the team primarily on the administrative side.