Weingut Idler, Pet Nat Muscat (2022)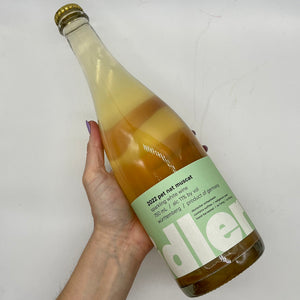 Swabia, Germany -- Be careful this is a little explosive. Open very cold! A vibrant and pure fun Pet Nat of Petit Grain Muscat with 12 hours of maceration. Not too floral with pretty lemon-lime acid and notes of pear.
Marcel Idler and like-minded friends Andi Knauss and Jochen Beurer are all driving the vanguard of Swabian winemaking. They are the new generation exploding quietly onto the scene, upending norms and turning the traditional way of doing things inside out, but with respect and grace. Their approach is light touch, low extraction, full of life yet incredibly precise. Their wines are gentle but somehow powerful, much like their demeanors.