Johannes Zillinger, Revolution White (NV)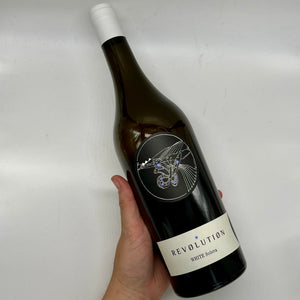 Johannes Zillinger is an innovative winemaker. His estate has remained in the family for 350 years and was one of the first in Austria to convert to organic winemaking in the 80s. The Zillinger estate is now fully Biodynamic and Johannes treats the vines with tea tinctures instead of chemicals. What is unique to Johannes' approach to winemaking is his incorporation of solera systems. He has several solera's that he blends with wine from the current vintage. 
Apricot, Christmas spices, brioche and a hint of terra cotta. The Chardonnay provides fruit, weight and texture. The Scheurebe adds a distinct floral and pink grapefruit note. The Riesling solera is the structural backbone of the wine, it adds acidity and a rocky, mineral note as well as apples, herbs and peaches, This is is a complex and fresh wine with great minerality and a hint of smokiness.
50% Chardonnay (10 days of skin fermentation in 1000 liter clay amphoras), 25% Scheurebe which comes from a solera (a fractional blend) of 2017 through 2019 vintages that was stored in 600 liter barrels of Acacia and Oak. The 25% Riesling is from a solera of 2013 through 2020 vintages in a combination of stainless steel and 600 liter oak barrels. Spontaneous primary and malolactic fermentation - unfined and unfiltered.