Akashi, White Oak Blended Japanese Whisky · 750mL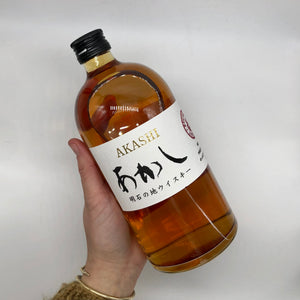 A blend of corn (70%) and malted barley (30%), lightly peated. The blend spends three years in ex bourbon barrels and is then finished in sherry casks. A killer value for a Japanese whisky, Akashi is blended in the Scotch tradition with Japanese precision. The producer, Eigashima Shuzo, is actually the oldest distillery in Japan, starting out as all sake production and then distilling whisky starting in 1920. True to its roots, they remain a 5 person team!
Creamy, soft, and round; the integrated peat gives it a balanced smoky and savory note. Caramel corn, marshmallow, apple, tobacco, and cinnamon.