Alipus, San Andres Mezcal Joven · 750mL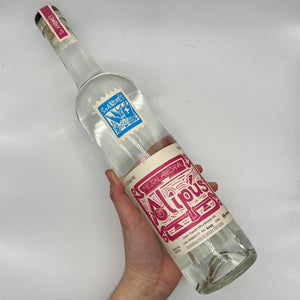 An expressive mexcal with a creamy texture and a sweet palate. Grilled fruits, almond, lilac, wet stones, lime and peppercorn. Higher tier mezcals have a more nuanced palate and aren't dominated by smokiness. This mezcal has smoke in the background that keeps the rich flavor from getting cloying or boring.
Fermented in cypress vats and distilled by Don Valente Angel. Combination of mostly Espadin and some semi-wild Bichuishe grown at 5000 feet elevation on a rolling plateau. The agave is wood roasted in the traditional palenque followed by juice extraction by slow stone milling (tahona) Native yeast ferment in open wooden vats, followed by double-distillation in small wood-fired copper stills.