Anna et André Durrmann, Gaz de Schistes Pét Nat Orange (2020)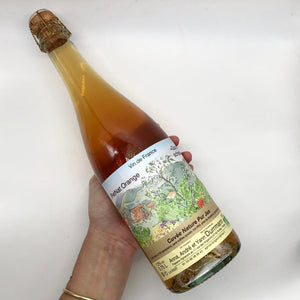 Crazy wild flower nose, clementine, dandelion, tarragon, copper. A pet nat with a lot of personality for all those folks looking for funky bubbles. This wine keeps you coming back for more, but also develops mouse so drink within two hours.
50% Pinot Blanc that macerates on the skins for 3 weeks and equal parts Pinot Gris and Riesling that are direct pressed and soon bottled with some RS so the bubbles get trapped in the bottle. As you can presume from the name, the grapes are grown in mineralrich, schist soils.
The Durrmann's are located in the town of Andlau, which was settled in the year 880 by a monastery of nuns, a place where grapes have been cultivated for more than a thousand years. They farm 10 hectares total and have been certified organic since 1998. The Durrmann's treat the estate as an ecosystem with everything living in harmony using permaculture practices. The sheep grazing the field acting as a natural fertilizer, the trees planted around the vineyard acts as a natural umbrella.