Ashanta Wines, Mawu Coferment (2020)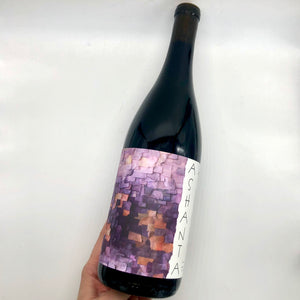 Sonoma Valley, California — 70% Merlot, 30% Chardonnay from a single vineyard and cofermented. The vineyard is in the foothills of the Sonoma Mountains. Only 88 cases produced. Dusty blackberry, balsamic, rosehips, stone, and alpine herbs; a wine that evolves as you enjoy.
Mawu is the creator goddess associated with the Sun and Moon in Dahomey mythology.
50% of Merlot was foot stomped and direct basket pressed on top of 25% whole cluster Merlot and 25% crushed/de-stemmed Merlot. Whole cluster Chardonnay was foot stomped and .5 ton of the skins and stems were added to the Merlot to co-ferment. Aged in French Neutral Oak for 8 months and in bottle for 4 months! A lot going on!
The Ashanta wines is a new project from Chenoa Ashton-Lewis and Will Basanta. Chenoa's family has been farming grapes in California for 3 generations. The couple started making wine after Chenoa's family mentioned that a site of grapes were not sold and becoming bird food. They make wine in the same facility as Tony Cotturi, and through a few small world connections picked him up as a mentor. They employ various unique techniques, even forage some grapes, and have resurrected some sites after wildfires.