Bodegas Albamar, Albino (2019)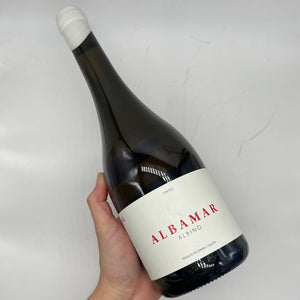 A special experimentation that was inspired by the ancient practice to produce a free run wine for people's own consumption. 100% Caiño, a rare native red grape, coming from old vines planted in clay soil. This is a blanc de noir where the grapes are pressed for 20 minutes on the stems. The must is transfered to steel to undergo spontaneous fermentation followed by elevage in neutral barrels for a year.
White, rose? The nose is complex, with aromas of apples, apricots, lemons and almonds. On the palate it is acidic, spicy and medium-bodied. Concise. Flavoursome and slightly acidic finish.
Caiño Tinto is a dark-skinned grape variety used to make fragrant red wines in the west of the Iberian Peninsula (Spain and Portugal). It is primarily grown in Galicia, and in particular Rias Baixas and Ribeiro, where it is used predominantly in red wine blends that range from delicate and perfumed, to medium bodied and very sour.
This varietal gives wines that are exuberant and aromatic. This wine stands out for its floral and citric notes and is lively with structure.
The blanc de noirs 2019 Albino was produced with red grapes that were pressed very lightly; it fermented in stainless steel and was kept unoaked with the lees and with full malolactic. It has a vertical profile, like a base wine for a sparkling wine, with developed aromas reminiscent of translucent red berries (acid berries), reminiscent of a Poulsard from the Jura, very unusual and unique. The palate is fresh and medium-bodied at