Cantina Furlani, Rosato Frizzante (2020)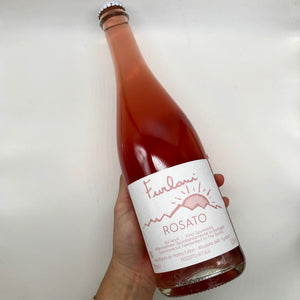 Trentino, Italy —  100% Pinot Nero fermented in steel and left outside until early spring when frozen must is added to spark refermentation in the bottle. Not disgorged, unfined, unfiltered. Delicate bubbles, with pristine minerals, and pretty red fruit. Rhubarb, strawberry, grapefruit, raspberries, river stones and a touch of earth.
Matteo Furlani is one of the bubble masters of Italy. He originally started as making Champagne method sparkling wine and now he's more known for his frizzantes that have a long history in cool mountain regions. His estate sits 750 meters above sea level in the Dolomites! Pinot Nero is his favorite grape.