Clos Lentiscus, Rose Brut Nature (2018)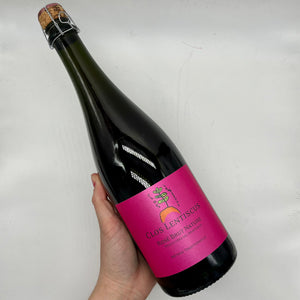 Penedes, Spain -- The bubble man strikes again with this banger. Blood orange, pomegranate, underripe strawberry, sea breeze, apricot, almond. Methode traditionelle with no dosage. Second fermentation prompted in the bottle with fresh juice.
Farmed fully biodynamically this wine is a blend of 45% Ull de Llebre / 45% Sumoll / 10% Syrah. They incorporate animals to assist in the winemaking process. They keep bees and not only do they pollinate the vineyard, but they also use honey as tirage in some of their wines. The sheep fertilize the soil and control the weeds. Their horse, Ringo does the plowing as to not compact the earth too much.They fully follow the moon's cycles for planting, pruning, harvesting, and bottling.
Manel's wife was diagnosed with stomach cancer many years ago and this inspired him to stop using sulfur in his cuvées because she could no longer drink wine with sulfur.