Controvento, Luna Calmante (2021)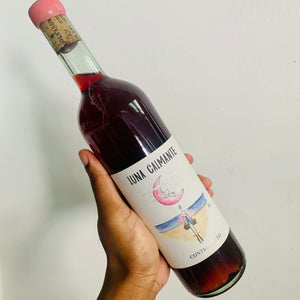 This might be the Italian answer to Trousseau! Luna Calmante is a red wine made from organic, hand-harvested Montepulciano d'Abruzzo grapes that see 9 days of carbonic maceration. Native yeast. No added sulfur.
This rosato is super vibrant with some savory, aniseedy notes. Hugely expressive, juicy, and refreshing.
Meaning "upwind" in Italian, Controvento is a 5 hectare vineyard in the Rocca San Giovanni region of Abruzzo just kilometers off the Adriatic Sea. Enzo's farm, situated partially in a valley with the backdrop of the beautiful Adriatic in the distance, is a completely biological organically-run vineyard.
Vines growing seven varietals all on calcareous soil are cooled by the salty sea breeze. The vines are fertilized with only winter green manure and are primed under falling moon. Zero chemicals of any kind are ever used. Enzo's philosophy of wine making is strict, allowing the grape to flourish in each and every bottle.
Enzo once said that he wanted to make wines like his grandfather did, in the purest possible form. Enzo never fines, clarifies, filters, or uses and So2 and always allows for spontaneous fermentation.