Controvento, Onda Anomala (2021)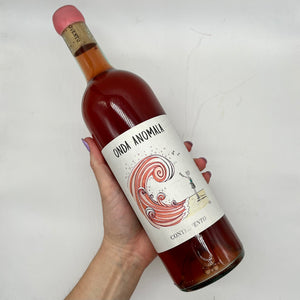 Abruzzo, Italy -- An alluring rosato of Montepulciano with 2 days of maceration. Strawberry sorbet, tangerine, oregano with playful texture and mouthwatering acid. Crush on this.
Contovento means upwind. A 5 hectare vineyard just moments from the Adriatic. All farmed organically. Enzo allows the grapes to flourish in every bottle and aims to make wine just as his grandfather did. Zero/Zero-unfined, unfiltered, no added sulfur.