Cosmic Vinyaters, Via Fora Emporda (2019)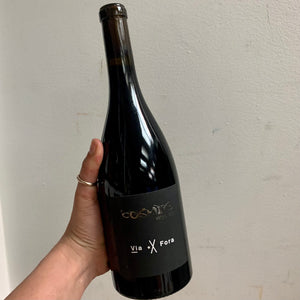 Limited edition: 1,290 bottles

Grape: 100% sumoll
Agriculture: organic with biodynamic criteria
Vineyard: vineyard in 56-year-old bush vines
Place: El Cup d'en Benet, Serra del Montmell (Baix Penedès)
Terrain: shallow calcareous clay
Winemaking: harvested by hand with 15 kg boxes. Maceration of whole grapes for 7 days, (carbonic maceration) gently pressed, spontaneous fermentation in a 70% stainless tank and 30% amphora.
Fermentation: native yeast
Fermentation vessel: stainless tank, amphora
Aging: in chestnut barrels for 4 months
Unfiltered, not clarified, total sulphites: <10 mg/l
Alcoholic grade: 12%
Motivation: It is a wine that is born from firmness in the difficult situations of life, where our identity can be reduced to oblivion. It is a tribute to wise farmers, who have been firm conservators of our cultural and wine heritage throughout the territory of our beloved country.