Desrochers, Beezz IP Sparkling Hops Mead · 375mL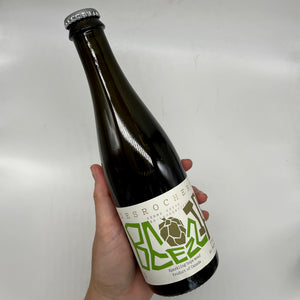 Mead made from raw organic buckwheat and wildflower honey. Fermented with cone hops: Cascade, Centennial, Chinook, Brewer's Gold, Galena. 
A strange little mead for the adventurous drinker. Light, bitter, bone dry, herbaceous, crisp. 
Like the dreamy echo of a call back to nature, Ferme Apicole Desrochers is first of all a way of life in osmosis with a mountain, a river, a region: Ferme-Neuve. It goes without saying that our line of products is respectful of the environment and of the bees offering the indispensable honey that goes into the preparation of our mead, a real honey wine. At the forefront of the organic movement, Ferme Apicole Desrochers, inspired by the surrounding nature, is still innovating twenty years after its creation, offering blends that bring a country air to your taste buds where the distinct notes of this exceptional, unique and all natural product reveal the echo of a dream dipped in reality.