Dolores Cabrera, Fernandez, La Araucaria Rosado (2022)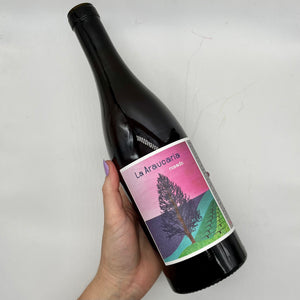 Along the northwest coast of Tenerife, one of the most prominent of Spain's volcanic archipelago, the Canary Islands, Dolores Cabrera is a winemaker set on beauty and transparency, that is, the honest (transparent) facilitation of the beauty of her gnarly, 100+ year-old double-braided Listan Negro/Blanco vines. Working over 6.5 idyllic hectares of vines in the Elysium-comparable (per her importer, José Pastor Selections' website) town La Orotava, situated in a valley of the same name, the wines of Dolores Cabrera express minerality and depth, a kind of petrified-majesty reminiscent of her labels which depict a local type of Canary pine tree ("La Araucaria") in varying shades of neon-pastel.
100% Listan Negro from 100-year-old vines grown on volcanic soil. After a hand harvest, the grapes are briefly macerated with the skins and fermented with wild yeasts in stainless steel. Bottled unfined, unfiltered with no SO2. An exemplary volcanic dark rosato, with intense minerality and notes of red currant, sweet/tart mulberries and a flinty, smoky finish.