Domaine de la Loue, Arbois Pupillin Savagnin (2020)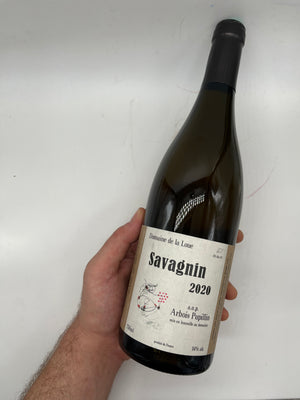 Catherine Hannoun is based in Port Lesney, a small commune about 15 minutes north of Arbois which exudes the tranquility many associate with the hills of Jura. Having worked for many years in film, including on Mondovino (a film bringing some of the shadier practises of the global wine economy to light), Catherine settled in Jura in 2008. It was clear after working alongside Emmanuel Houillon that this was the area for her, and in 2009 bought a small parcel of vines and her current cellar. She now has 3.2ha of vineyards of Chardonnay, Savagnin, Trousseau and Pinot Noir around Marnoz and Arbois and produces wines that honestly portray the grape and terroir in every sip.
Hailing from the iconic Sous La Roche parcel in Pupillin, the fruit for this much-loved cuvee benefits from the well-draining, emblematic grey marls of the area and from the orientation of the plot which provides shade in the morning and gentle sun in the afternoons. After harvesting, grapes from this site are pressed directly before going into three individual 350L barrels and spend a long, gentle élevage therein until bottling in April 2022. While the warm 2020 vintage produced fruit of relatively high potential alcohol, there's enough energy, acidity, and salinity to hide it well in this cuvee. In its youth, the 2020 Savagnin is lean and racy; with time in bottle, fruit feels more tender, ripe, and generous.