Domaine Mosse, Magic of Juju (2022)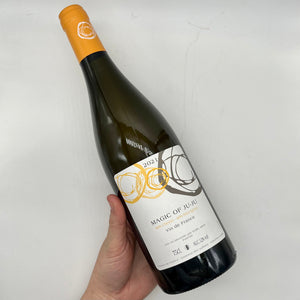 Loire, France — 80% Chenin & 20% Sauvignon Blanc, pressed in a pneumatic press. Chenin aged for 6 months in barrels on fine lees and Sauvignon Blanc aged in stainless steel vats. Unfined, unfiltered. Named after Archie Shepp's album, Magic of Juju--René is a big jazz head. René leaves on a radio in the cellar, so the barrels are listening to music at all times.
Ripe, lush fruit-- grapefruit, meyer lemon, peach, pear, stone, honey and spice. Invigorating acidity, Oily and silky texture.
The estate is now run by René's two sons. Agnes still works, but Rene is mostly retired.