Domaine Ozil, Gourmandise (2021)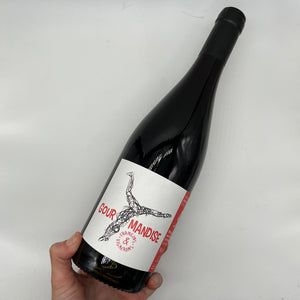 A delightful, brambly glou glou wine. Syrah/ Grenache blend all farmed organic, biodynamically, carbonic maceration with no added sulfur. Crushed raspberries and black cherries, blackberries, cinnamon, and pink peppercorns. A little spritz makes it perfect on its own or with a Sunday eve meal.
Thomas and Jean Daniel are brothers that farm their family estate in Ardèche. Northern Rhone has idyllic forests, trails, gorges and a natural rock arch, Pont d'Arc. They farm a combination of vines, lavender and olive trees. Their old cellar is carved out of the gorges and their office in an old pigsty.