Domaine YoYo, Restake (2021)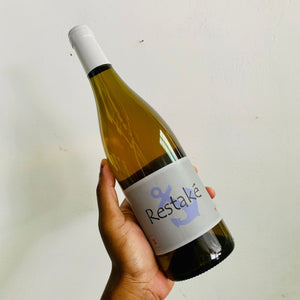 60 % Grenache Gris & Blanc (80 years old vines, direct pressed)/ 40% Carignan Blanc & Gris (4 day maceration)

Balance between the richness and texture of the ripe Grenache, and the freshness and energy from the Carignan make Restaké an incredibly dynamic wine. Freshness and minerality define this ultra aromatic cuvée and is complemented with a long, beautiful finish.

Domaine YoYo is located at the highest altitude in Banyuls, overlooking the Mediterranean and the surrounding garrique filled mountains
Laurence Manya-Krief is sincere, upright, and determined... Formerly a sales director in ready-to-wear fashion, at 35 years old she dropped her career for a life of vines. Today, our taste buds are thrilled that she did! She may be petite, but she cultivates some of the most difficult plots in France. Her steep slopes are completely incompatible with mechanized farming, so she depends instead on horse and mule power to work her 7 hectares of black schist soils, planted with century-old Grenache and Carignan vines. The estate has been certified organic since 2008, and Laurence eschews chemical fertilizers in favor of composts of fruit pulp, feather meal and crab shells! Harvest time here is always a lively, joyous event, with grapes collected at extremely low yields of 10-20 hl/ha, but never overripe. Vinifying whole cluster, Domaine Yoyo is focused on producing juice that's easy-drinking and of moderate strength – the result are the most chic and thirst-quenching wines of Banyuls!