El Buho, Jabali Mezcal · 750mL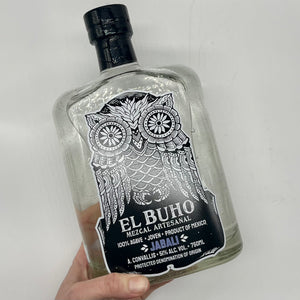 A velvety and bright expression, the Jabali has strong baking spice and pine on the nose with light citric notes. White pepper, cinnamon, and lime all interplay to create a tannic and chocolatey spirit.
The jabali agave is notorious for being the most difficult agave to work with due to the foam it produces and the lower sugar content. Its difficult nature explains why Jabali is rarely seen in the states. The agave convallis requires three to four distillations. Jabali is named after the wild boar because of it's spikey, curved leaf resemblance to the animal and perhaps its difficult nature.
Produced by hand in pot stills by 5th generation Jimenez Mendez family.