Emme Wines, Amando El Sol (2022)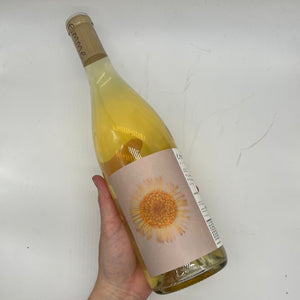 A beautiful ode to California sun the wine name translates to "loving the sun". Zesty and fresh with a lanolin texture. Creamy lemon meringue with a sprinkle of basil on top.
Rosalind is part of the new wave of California winemakers we're so excited about.
Emme Wines Amando El Sol is a classic, old-school white blend of Colombard and Chardonnay. If you're a wine nerd, you know this was the go-to blend for California white wines before heavily manipulated Chardonnay glutted the market. Bright and crisp, with a melange of citrus fruits, green apples, and sea spray.  Colombard from Ricetti Vineyard forms the base, giving a light, beautifully linear wine. Once picked, the Colombard was pressed directly, settled overnight, then racked off gross lees into a stainless steel tank for primary fermentation. After primary finished, the wine was put down to neutral oak barriques and one small concrete egg to age for 6 months. To add some creaminess and weight to the Colombard, Chardonnay from Bazzano vineyard was picked in late August. The Chardonnay was pressed directly, left to settle overnight, then racked off gross lees into a small concrete egg and two neutral oak barriques. After primary fermentation finished, the Chardonnay was racked out of the concrete egg and consolidated in neutral barriques to age on lees for 7 months. In late March, the Chardonnay and Colombard components were racked out of their barriques and blended just before bottling. Indigenous yeast fermentation. SO²: 15 ppm at bottling. No other additions, unfined and unfiltered.