Finger Lakes Distilling, McKenzie Bourbon · 750mL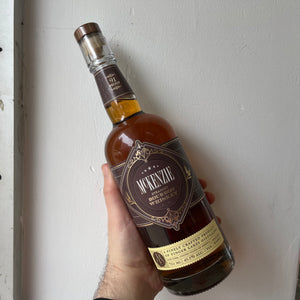 From the Finger Lakes, a rich bourbon with high rye to complement the sweetness. A local variety of corn makes up 70% of the mash bill. Aged in new charred barrels and finished in Chardonnay casks giving the bourbon a round buttery finish. 
Sometimes the worst thing that a bourbon can be is boring. There are plenty of craft distilleries producing bourbons that are all within a margin of error from each other, and it takes something new and interesting to break out of that peloton. The Finger Lakes Distillery is one of a handful of craft distilleries that are truly adding a unique twist to their spirits, and the results are something you really need to taste and experiment with to understand.
A strangely mint-y bourbon that makes me want to break out the mixers and start experimenting like a mad scientist.
Made from NYS grain and distilled using old-time techniques. We age in new charred quarter casks and finish in sherry barrels from local wineries. The sherry balances the spiciness of the rye and also gives a nod to the wine region where this whiskey is produced. Notes of orange peel, cardamom, mint and butterscotch. Exceptionally smooth for a young whiskey.  Finger Lakes Distilling.
A rich and spicy bourbon with a mash bill of New York-grown grain, presenting all the caramel and vanilla one expects from a classic bourbon. Finishes dry with just enough rye spice to complement the subtle sweetness.