Fort Hamilton, Double Barrel Rye · 750mL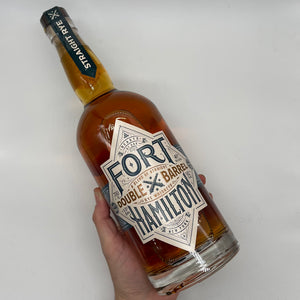 Fort Hamilton set out to recapture America's finest spirits. The New York Rye style was the most popular libation in pre-prohibition America and serves as the base in many classic American cocktails. The tradition is honored by using no corn in the mash bills, no colorings, flavorings, or adulterating the whiskey in any way.
The Double Barrel Rye is barreled at a low proof for a smoother profile, emphasizing the rye grain rather than barrel lending to a softer, fruit-driven style of rye. Non-chill filtered and aged in heavily charred new American white oak barrels on the Brooklyn waterfront.
Our Double Barrel Rye celebrates Rye Whiskey from the revolutionary war era. A blend of Straight Rye from New York and the American Heartland.
Distilled from New York Rye Grain & Malted Barley, then aged to perfection in char #3 American Oak Barrels for an average age of at least three years.