Frank Cornelissen, Susucaru Rosato (2022)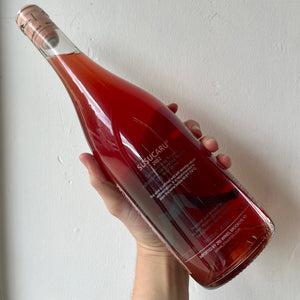 Region: Sicily
Grape: Malvasia, Moscadella, Catarratto, Nerello Mascalese
Vineyard Size: 19 hectares
Soil: volcanic
Average Age of Vines: 50 years
Farming: organic
Harvest: by hand
Winemaking: destemmed, gentle press, 10 day maceration, spontaneous fermentation in epoxy tanks with indigenous yeasts
Aging: in epoxy tanks
Fining: none
Filtration: 1 micron polyethylene cartridges
Sulphur: values can vary from 15 to 50 mg/l., added or not, depending on the quality of grapes and stability of the wine.
She's back! The ephemeral Susucaru. Cranberries, rock salt and a rosemary sprig. Susucaru roughly translates to "they stole it" in local dialect and is what the vineyard workers exclaimed when they showed up for Frank's first harvest.