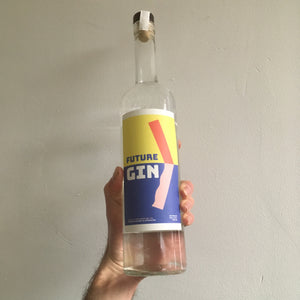 Future Gin is the first fully women owned, operated, and distilled gin in existence. This exciting poject came to us through our amazing California distributor, Amy Atwood. Amy and her three collaborators, Mary Bartlett, who came with many years experience in the craft cocktail and spirits world, and Freya Estreller and Natasha Case, the creators of the popular Coolhaus ice cream brand, came together to make a gin that reflected the classic London dry style, while still evoking something classically Californian. They spent over a year testing different combinations of botanicals with their distiller Morgan McLachlan until they came up with just the right flavor. In their own words they:
wanted a spirit that represents everything we love about California, from its natural bounty to forward thinking. Future combines the structure of a dry gin with the vibrant flavors of Southern California. Meyer lemon, honeysuckle and grape leaf are distilled alongside traditional botanicals to produce a gin that's as classic as a martini and as bright as our future.
They even used Avocado leaves from Amy's own back garden! When you taste this gin you recognize immediately what it is, but it also leaves with you with a citrusy that makes you feel like you're basking in that amazing California sunshine.