Herve Villemade, Cheverny Blanc (2022)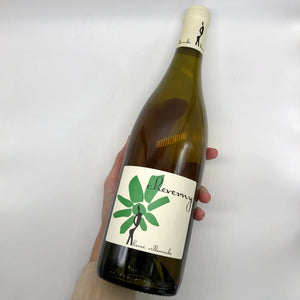 70% Sauvignon Blanc and 30% Chardonnay grown on flinty sand and clay soils. The wine shows pretty aromas of pear, citrus, almond and stone with hints of white flowers. The palate is supple with white and yellow fruits,  ripe citrus, a bit of anise and herbal flavors and is nicely balanced with firm acidity.
Herve Villemade makes incredibly precise wines in a special part of the Loire Valley. He converted to organic farming in 2000 after realizing he had a serious sulfur allergy. Wines with zero additives need to be from top grapes, so he stopped spraying his vines. This wine has a minuscule amount of sulfur added to get it here safely from France.