Isolation Proof, Gin · 750mL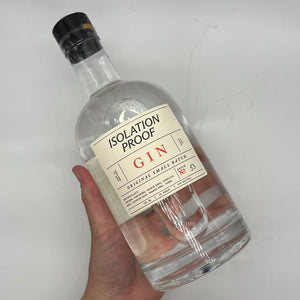 Happy harmony between London Dry and New American styles. All distilled in small batches in a small barn nestled in the Catskills. 80% of the ingredients come from NYS and the ingredients unable to source locally (citrus etc.) are organic and sustainable. Heady aromatics of white flowers, watermelon rind, jasmine, grass, earth, black pepper, cardamom. On the palate a silky roundness with notes of black walnut, fennel, orange rind, bitter herbs and tropical fruit.
Distilled from whey--a byproduct of milk that is generally discarded. The botanicals are juniper, coriander, cassia bark, angelica root, licorice root, orange peel, and cubeb (similar to black pepper and is the signature addition to Bombay).