Le Mazel, Larmande (2018)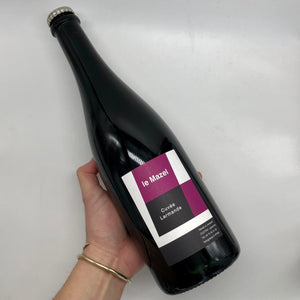 Hand harvested Syrah that are slowly pressed whole cluster, then aged for 10 months without SO2. Farmed organically, soil is composed of clay and limestone. Meaty nose that opens up into tart berries, with notes of salty black olives, and balsamic. Fresh and vivid with soft tannins.
Gerald Oustric was inspired by Lapierre in the 80s and in turn acts as a mentor for many other vignerons in the area (Sylvain Bock, Anders Frederick Steen to name a couple). For the past 20 years Gerard runs Le Mazel along with his sister, Jocelyne.