Lelarge-Pugeot, Champagne Tradition (NV)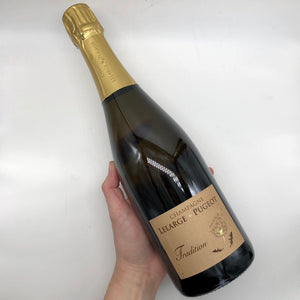 This entry-level stunner features a Meunier-dominant blend to highlight the power and finesse of the domaine's leading grape, the underappreciated Pinot Meunier. This cuvée is the platonic ideal of growers' champagne - one that seamlessly weaves the minerality in the soils with the delicate aromas of grapes from a blend of 30 parcels within Vrigny. A true reflection of the Vrigny terroir. Perfectly in sync, oxidative and mineral with notes of wild honey, hazelnut and peach.
Lelarge-Pugeot is an eighth-generation winery in the Premier Cru village of Vrigny on the rolling slopes of the Montagne de Reims (about 15 minutes west of Reims). It is a real family operation, helmed by the two parents, Dominique and Dominique, and supported by their kids.