Marie Rocher, Les Passantes Rouge (2021)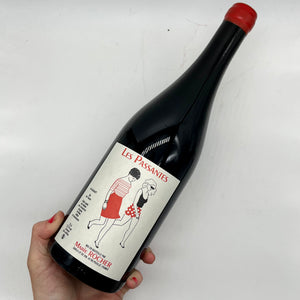 Loire, France -- A wonderful blend of 2/3 Gamay and 1/3 Cabernet Franc. Delicate purple brambles with pretty notes of earth.
Marie Rocher first started out in her father's footsteps as a wine writer. She then transitioned into baking bread and that prompted a deeper passion for fermentation. After spending a few years baking she worked with some big names such as Herve Villemade, René Mosse, Marcel and Marie Lapierre and eventually started making her own wines. Native yeast ferment, unfined, unfiltered, no additives, and no added sulfur in the same vein as her mentors.