Max Dexheimer, Riesling (2021)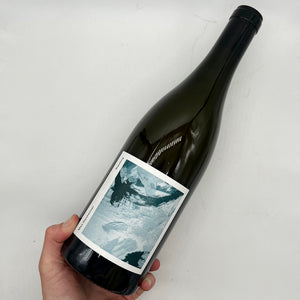 Rheinhessen, Germany -- An intoxicating Riesling from 5th generation winemaker, Max. Lovely precision with rock-like minerality, racy acid, and notes of crisp peach, green apple and citrus. Pure, vivid and precise.
Max went to Geisenheim University, a famous school for winemaking, and initially approached in a more conventional way. With inspiration from good winemaking friends such as Andi Weigand, Andi Mann, and Martin Worner aka Marto he transitioned to making completely natural wine and barely adding any sulfur at all. His father is supportive of this transition and also has been inspired and even has started to make Pet-Nats. His partner, Marika, is also a rock in at the Dexheimer estate. They fell in love when she went for a harvest.
The intriguing labels are all cut out of one big painting made by Max's friend, representing the energy that he's feeling when working in the vineyards.