Meinklang, Prosa Frizzante Rosé (2021)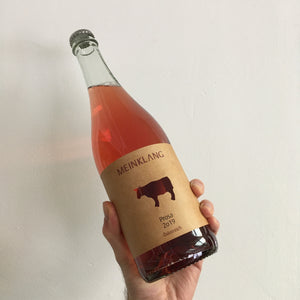 Pinot Noir, Zweigelt, Blaufrankish. Gentle press, short maceration, spontaneous fermentation in stainless steel with indigenous yeasts, finished in pressure tanks.
Berries, herbs, and a subtle earthy element.
Meinklang is a family-run mixed farm, set in the middle of the World Heritage Site of the National Park Neusiedlersee, on the Eastern side of the Neusiedlersee Lake, bordering directly on the Hungarian lowlands, where life's diversity and complexity are celebrated. This farm functions much like an organism, relying not only on the people but also on the local herd of cows which contributes in an essential way with their natural and invaluable fertilizer.