MicroBio Wines, Isse · 1.5L (2017)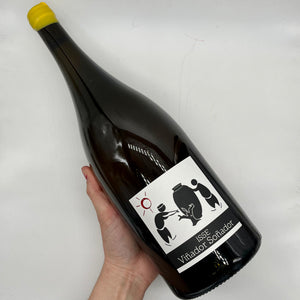 Castilla y Leon, Spain -- A magnum Another stunning masterpiece from Spanish natural wine master Ismael Gonzalo, this is a white of compelling character and personality, from old 100% Verdejo grapes planted in 1868 in Segovia's Nieva village, at more than 900m elevation on poor soils of siliceous sand and gravel. Spontaneous fermentation takes place in a cave in Spanish amphorae called "tinajas" and extends for several months, with elevage of at least 2 years both in tinajas and steel, after which it's bottled with no fining, filtration or added SO2. Bright, focused and splendidly complex: red peaches, pink salt and lavender compote, lemon oil, white musk and lime zest.
Hand harvested, direct press with slow spontaneous fermentation in buried amphora at low cellar temperatures with indigenous yeasts.
Aged for 12 months in amphora before being transferred to stainless steel to age for another year.