Microbodegal del Alumbro, Albyreal (2020)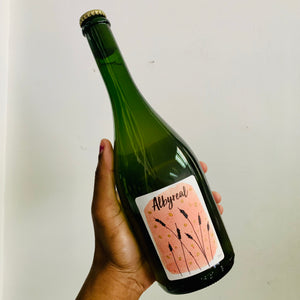 I'll be real, this baby is pretty fun. Albillo Real that spends a month on the skins in a combination of steel and amphora. Albillo Real are very tiny grapes that Maribel and her son farm biodynamically, hand harvest and then spontaneously ferment. They farm 4.5 hectares of old vines that were rescued from being plowed as they have very low yields.
A dream with spicy food. Electric acidity, lively fruit, silky aloe texture. Star fruit, pineapple, herbs.