Miyakobijin Shuzo, Yoigokochi Yuzu Sake · 720mL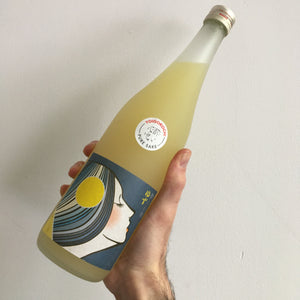 A Yamahai Junmai sake with whole Yuzu fruit juice added, it opens with heady aromatics and a dense palate of tart and sweet from the yuzu fruit, finishing with a hint of grainy rusticity from the Yamahai brewing method. At 7% ABV, it's an easy sipper on its own, on the rocks, or with seltzer, but it also works well in cocktails.
Yamahai refers to an older-fashioned, slow brewing method where lactic acid is allowed to form naturally, as opposed to added in, in the meantime causing the sake to form layers of complex, earthy flavors and a light astringency. Only pure rice, Yuzu juice and a little sugar are added.
Shake before pouring.
Miyakobijin Shuzō is located on Awajishima (Awaji Island), a place referred to in ancient Japanese texts as a land of abundance. Tōji (master brewer) Yamauchi Kunihiro excels in making sake that brings out ricey earthy tones, which give his sake great depth and complexity.