Oenogenesis, Mataroa Rustic Xinomavro (2021)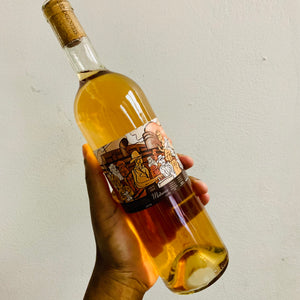 A special skin contact from the Xinomavro variety, from the experienced and French-trained viticulturist and oenologist Baki Tsalkos. The skin contact with grapes and the minimal intervention, results in the creation of a wine with a clear expression of the "terroir" of the region from which it comes.
Chewy apricot with nice acid and mineral notes.
Oenogenesis is owned and operated by one of the greatest oenologists of Greece, Bakis Tsalkos (trained and experienced in Montpellier and Bordeaux for most of his life). He belongs to the generation of oenologists who revived the Greek wine industry, and he single-handedly created the winemaking industry of Drama in the 80's, the youngest one of Greece. His principle is the absence of anything chemical, with as little intervention or spraying in the vineyard as possible. At least 85% of grapes used, grow in the 30 ha of estate owned vineyards.