Olivier Horiot, Métisse Les Riceys Brut Nature (NV) · 750mL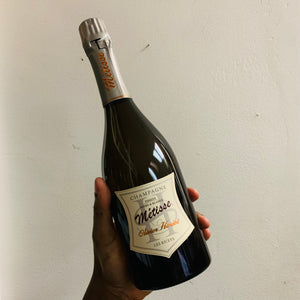 The Horiot champagnes have been a long time favorite of ours. Located in the unique region of the Aube, which borders Chablis therefore rich with Kimmeridgian chalk, Marie and Olivier Horiot champion all seven varieties allowed in the region. The vineyards are farmed biodynamically and the wines have little to zero dosage and additions making the Horiot champagnes some of the most natural as can be.
The Métisse is comprised of 80& Pinot Noir and 20% Pinot Blanc from Les Riceys, vinified separately and aged on the lees. Before the second fermentation the two vintage wines are blended with wine from the solera that is stored in foudre and then aged on the lees for up to 3 additional years.
The nose is delicate and spritely upon opening with generous notes of white peach, lemon curd, and cool herb tones, opening to reveal aromas of brioche and ginger. On the palate, there is a sense of volume with generous stone fruit flavors underlain with a broad, stony character which lends drive to the long, lingering finish.