Piri Naturel, Ponderosa (2021)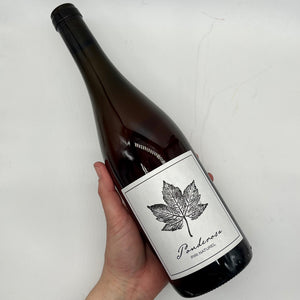 Nahe, Germany -- Ponderosa is a gorgeous wine that we can't stop guzzling. Whether to call it rose or orange all that matters to us is that it is that it is darn delicious. Ethereal and graceful. Stone fruit, papaya, star fruit, red apple, tomato leaf, and green herbs.
Ponderosa has been the name of this vineyard site as far back as Christine remembers. Mostly Pinot Gris (Grauburgunder) and Pinot Noir (Spatburgunder) planted very close to each other. The grapes ferment whole bunch, semi carbonically for about a week with gentle foot stomping, followed by aging in oak on the lees.
We're inclined to say that Christine Pieroth is a promising young winemaker, but that would be reductive. We were blown away when we first tried her wines in 2019 and continue to be impressed every year. She started her own project of natural wine alongside her family's wine production (the Pieroth's have been making wine since the 1780s). Wine, more in line with the way generations before her had made. She is very involved with the land, not just with the vines, concerned with biodiversity. Most of her produce comes from her own organic garden. She makes balms and tonics with some of the native vegetation in the area. The labels are hand printed using local floral in the area and then digitally copied.