Quinta do Infantado, Ruby Port · 750ml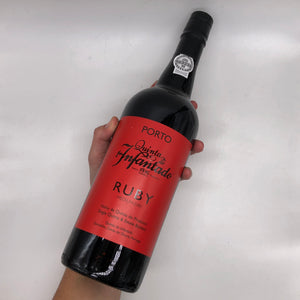 Not your cloyingly sweet port, this one is more balanced with the right amount of dark plummy fruit and tannins. Your classic chocolate pairing.

A blend of two to three vintages using Touriga Franca/Touriga Nacional/Tinta Roriz/ and an old field-blend red varieties. From exclusively Class A parcels (Serra Douro, Lapa, Castelos) totaling eleven and one-half hectares on poor schist soils. The fruit is hand-harvested, partly destemmed and fermented in lagar and tank; fermentation is stopped with seventy-seven-degree grape brandy. The wine is aged in a variety of tonel and balseiro, which are tall wooden tanks from 3,000-60,000 liters with thick staves that slow down oxidation. It finishes at a modest nineteen and one-half percent and seventy grams per liter of residual sugar, in other words considerably drier than most rubies. The average age in bottle is two to three years. 20,000-30,000 numbered bottles produced annually.