Regans, Orange Bitters · 5oz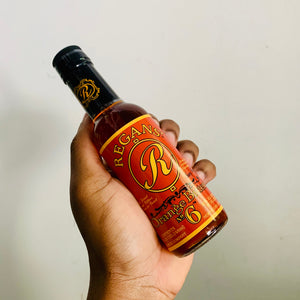 Regan's Orange bitters recipe is truly a classic. It follows a formula that was one of the first to hit the market during the cocktail renaissance of the early aughts.
Bartenders and party hosts alike will appreciate the wider range of party drinks they can offer their guests with the help of bitters. A fun addition to any well-stocked bar, this 5-ounce bottle of orange bitters, in particular, adds a delicious splash of spice to a variety of drinks--everything from a Rum Martini or an Old Fashioned to a Manhattan or a Sloe Gin Cocktail. Developed by cocktail-expert Gary Regan, the mixer offers a delicate, yet complex orange flavor infused with spicy cinnamon and cloves. Forty-five-percent alcohol by volume, the 5-ounce bottle of orange bitters measures approximately 2 by 2 by 6-1/2 inches.