San Bartolo, Quiegolani Espadin Mezcal ·750mL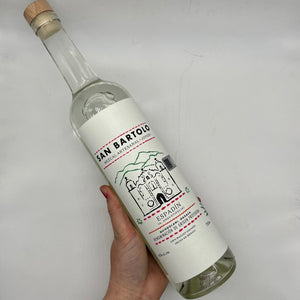 San Bartolo Mezcal was founded on four core values: tradition, quality, culture, and honesty. These core values serve as the foundation from which we make every decision, from our Mezcal production process to the people we work with.
Casa San Bartolo Distillery is driven by uncompromising quality and attention to detail in our ongoing effort to bring our customers the best agave spirit possible. Our core values and unbridled determination are at the heart of our culture and everything we do.
We have the simple vision of sharing Mezcal and ultra-premium quality agave spirits with the world. Over the coming years, we will create something that people will truly savor and enjoy for generations to come.
San Bartolo Mezcal Artesanal is a unique Mexican spirit of yore distilled by four generations of Maestros Mezcaleros in the San Bartolo Yautepec valley in Oaxaca. It has delicate herbal and fresh mineral notes with a particular clean smoke. The creation of our Mezcal has been made possible by the hard work and tradition of the people of the Yautepec Valley and Valentin Martinez Lopez, Maestro Mezcalero.
San Bartolo Mezcal Artesanal is a dream come true for Lopez and his grandson, who sought to represent their village and their values by creating this sustainable Mezcal brand.