Sant'Or, Roditis Achaia (2021)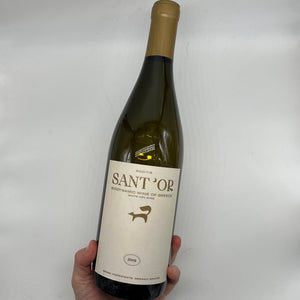 Sant'Or is run by Panagiotis Dimitropoulos and as a former mechanical engineer it makes sense he operates as an efficient, well-oiled one man show. Panos also grows native grapes Santameriana and Mavrodafni, however this Roditis done entirely in steel is actually his favorite. The wine goes through malo giving it a more oily, honeyed texture. Lemon rind, yellow pear, brioche, and basil. Medium bodied, mineral wine.
The vines are farmed organic and boidynamically at a high elevation close to the ocean. Spontaneous ferment, unfined, unfiltered, small amount of sulfur added at bottling.